Joint Walkathon 2015
The 2015 Joint Walkathon of hospital chaplaincy committees was held on November 7 (Saturday) at Pak Shek Kok Waterfront Promenade. There were over 500 participants including chaplains and volunteers. Apart from Rev. Joshua Chan and Rev. W C Lo of AHKHCCM, the "Kicking-off" ceremony was officiated by representatives from 11 chaplaincy committees, as well as guests from hospitals including The Right Revd. Louis Tsui of Union Christian Hospital, Dr. K H Chan of North District Hospital and Ms. Lam, Nurse Consultant of Caritas Hospital. The amount of funds raised has already exceeded HK$1,900,000.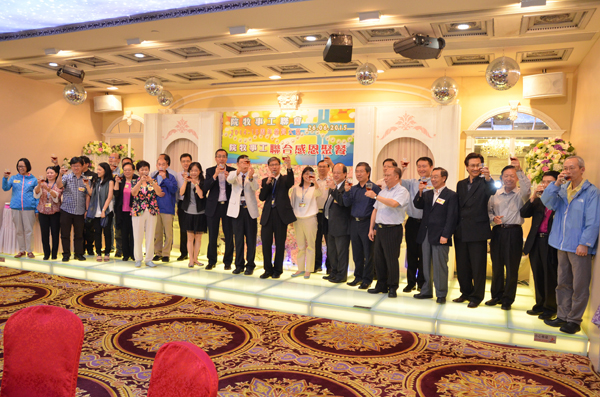 Joint Thanksgiving Banquet
The Joint Thanksgiving Banquet was held on June 26. There were 13 tables including chaplains, chaplaincy committee members as well as directors and consultants of AHKHCCM. Apart from review of chaplaincy ministry for last year, Rev. Van Lo (General Secretary of AHKHCCM) shared on stage with a chaplain about the efforts and results made from professional development. After their sharing, Dr. T. H. Cheung (Consultant for Professional Development, AHKHCCM) presented certificates to registered chaplains while Dr. K Y Lee, Consultant of AHKHCCM, presented CPE certificates. The Banquet was concluded by benediction from Rt Revd Louis T. S. Tsui.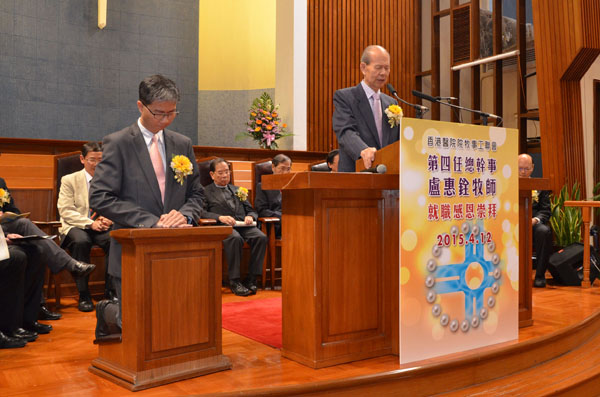 Inauguration Ceremony for the 4th General Secretary
The Inauguration Ceremony for Rev. Van Lo, the fourth General Secretary, was held on April 12 at Tsim Sha Tsui Baptist Church. The hall was filled with 200 participants including chaplains, chaplaincy committee members, representatives from various churches and associations. Officiating guests for the ceremony included Rev. P.K. Lee, Rev. C. K. Liu, The Rt Rev. Dr. Y.P. Soo, Rev. K. C. Law, Dr. K.Y. Mak and the Board of Directors.
The 11th Chaplains'Day
The 11th Chaplains' Day was smoothly held on June 26, 2015 at Swatow Christian Church, Kowloon City. There were 91 chaplains participating and the topic for this year is "Spiritual Growth and Team Building". Led by Rev. C.C Ng along with his pastoral team of Swatow Christian Church, programs included worship & praise, meditation, short sermon, team sharing and prayer session.