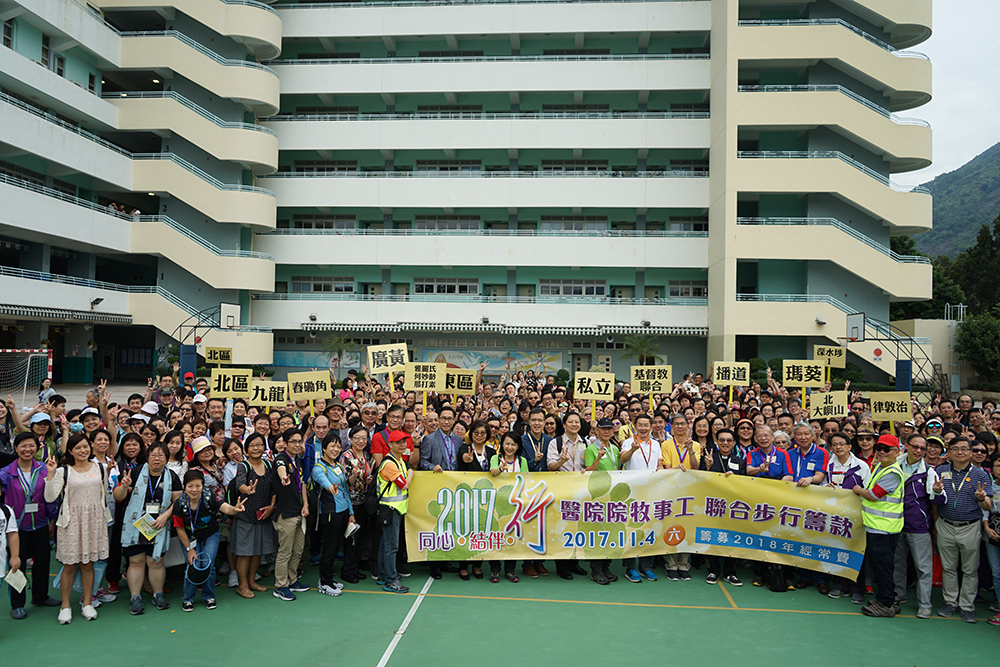 Joint Walkathon 2017
The 2017 Joint Walkathon of hospital chaplaincy committees was held on November 4 (Saturday) at Ma On Shan Waterfront Promenade. Around 500 participants gathered at SKH Ma On Shan Holy Spirit Primary School. The "Kicking-off" ceremony was started with prayer led by The Right Revd. Louis Tsui of Union Christian Hospital. Apart from Rev. Joshua Chan and Rev. W C Lo of AHKHCCM, there were representatives from 13 chaplaincy committees as well as guests from 8 hospitals. The amount of funds raised so far is around HK$2,400,000.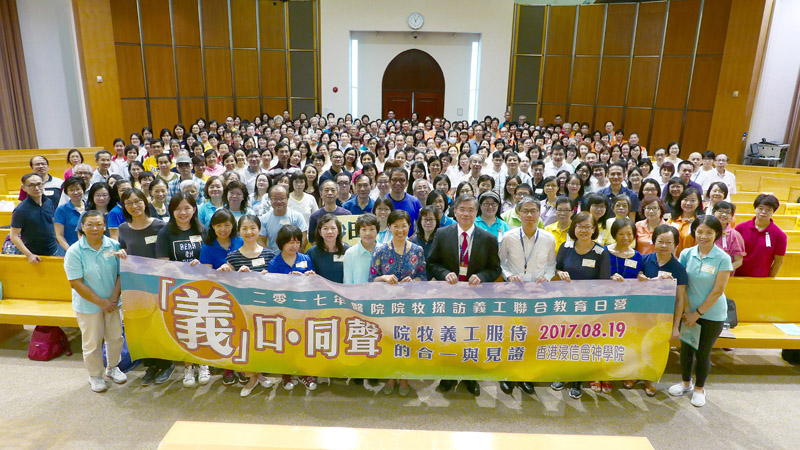 Training Day Camp for chaplaincy volunteers
The Training Day Camp for chaplaincy volunteers was smoothly held on August 19, 2012 at Hong Kong Baptist Theological Seminary. The Day Camp was jointly organized by 17 chaplaincy offices with an aim to "gather, motivate and train" volunteers who commit themselves to serve with chaplains in various hospitals. There were around 270 participants and each team introduced themselves with an unique slogan followed by hymn singing. Rev. Joshua W T Tso, President of Hong Kong Baptist Theological Seminary gave a short and encouraging sharing to all volunteers. A 10 minutes film was shown to express appreciation and recognition to volunteers from medical staff and chaplaincy committees. 8 workshops were held in the morning as well as in the afternoon. The Camp was well received by the volunteers and they found it a good gathering and learning opportunity for them.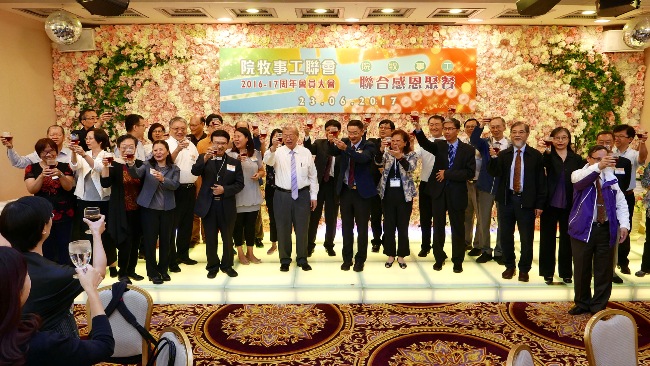 Joint Thanksgiving Banquet
The Joint Thanksgiving Banquet was held on June 23. There were 16 tables including chaplains, chaplaincy committee members as well as directors and consultants of AHKHCCM. Apart from sharing chaplaincy ministry and overall service delivered for last year, Rev Van Lo has shared the highlights of the survey findings on professional development. Thereafter, Dr. Beatrice Cheng, Dr T H Cheung and Dr. Susie Lum presented certificates to registered chaplains while Rt Revd Louis T. S. Tsui, Rev K H Chan and Rev M K Tso presented CPE certificates respectively. The Banquet was concluded by benediction from Rt Revd Thomas Y. P. Soo.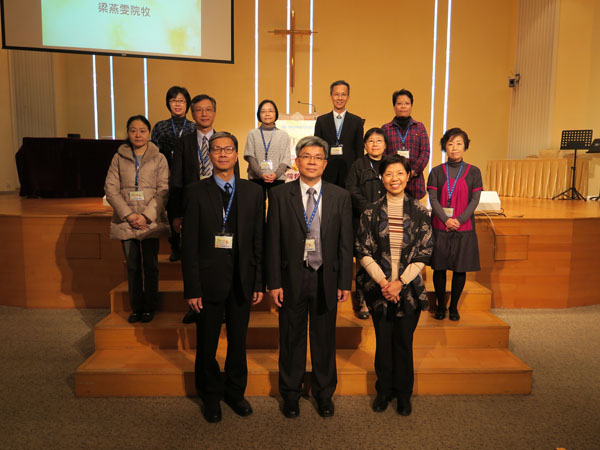 The 8th Pastoral Day for Seminarians
The 8th Hospital Pastoral Day for Seminary Students was successfully held on January 20, 2017 at Yan Fook Church of EFCC. The event was co-organized by 15 seminary schools with around 190 students participated. Rev. Dr. Man-Chee Kwok (President of Evangel Seminary) was invited to speak on the topic "The greatest of these is love". In addition, eight workshops were held by chaplains who shared their clinical experience with seminary students.
The 13th Chaplains' Day
The 13th Chaplains' Day was smoothly held on June 23, 2017 at Swatow Christian Church, Kowloon City. There were 105 chaplains participating and the topic for this year is "Spiritual and mental health for chaplains" The program was led by Dr. Charles Yu. Apart from his sharing, there were also group discussions, through which chaplains have more self reflection and awareness of the importance of spiritual health for pastoral care.